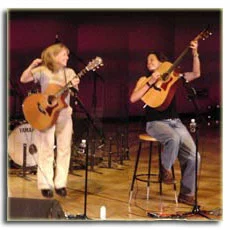 Farewell and Thanks!...
On Jan. 21st and 22nd, after a wonderful 12-year recording and touring career as CommonbonD, which included 40 US states, the Grand Caribbean, Mexico, and the Virgin Islands and releasing 6 CD's, Mary Beth and Ashley performed their final shows as CommonbonD. The decision to explore other interests was a hard-made one for each. The phenomenal shows and after-parties testified to the impact CommonbonD has had on a community. CommonbonD will be deeply missed, but we as friends, family and fans are grateful to have shared in their music, laughter, friendship and support for so many years. Stay tuned here for updates on Mary Beth, Ashley and the Get Bonded studios.
The Final Farewell Shows and After-Parties!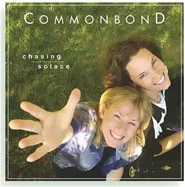 See MINI-FOOTAGE of the show from https://florafox.com/ru/saratov-23...
Thanks to everyone who came out on Friday and Saturday to the SOLD-OUT shows at Jammin' Java in Vienna - braving the storm and icy wind chill. Thanks also to the Jammin' Java staff for hosting us over the years. It was a rockin' coffeehouse weekend! What great shows and audience energy! The Sheraton in Reston hosted CommonbonD's guests and after-parties on Friday and Saturday and, to the staff there, we also say thank you. The after-parties were crazy - our DJ amazing - and all of you solid gold dancers - what can we say? It's a weekend to remember!
Personal thanks from Mary Beth and Ashley...
Much love and many thanks to all of you who have hoped, believed, prayed, worked, sacrificed and cheered through all of these years. My thanks extends farther and louder than all of your hands clapping together! May God bless you in your own journey...whether big or small. Much love, many cat free hugs and tons of smiles, Ashland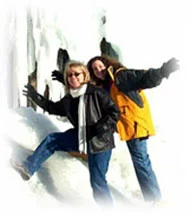 "Thanks" seems so trite in the big scheme of things as it has a lot of ground to cover. Not everyone gets the opportunity to live out their dreams and passions and just a simple "thanks" doesn't seem like enough. Through the years, in so many towns and to so many kind faces, we've poured our hearts and souls out and you've always been there as a safety net. You've always welcomed us, with a kind word and a smile and an unspoken kinship that has never gone unnoticed and will never be forgotten. You've been our family and our friends through so many years; it's hard to encapsulate all of you in one blurb. But, in saying "thanks", I hope you know how deep it goes and how much it truly means. I will treasure the magic and the memories we've shared with all of you. We've been blessed to share our love of music with so many and be able to feel such love back... it's truly overwhelming. Many of you have told us stories of how we've been there with you and how our music has touched you. We can't thank you enough for that opportunity. I hope our music will continue to live within you. We'll miss you all very much and hope you all get the opportunity to live out your dream. I won't say goodbye; just see you soon. Like my mom always says, "Where God closes the door, he opens the window." Much love and so very many thanks, Mary Beth
Top pages:
venues / Ten Songs.htm / awards / CB radio / Order Form.htm / Ashley / artists / Mary / naked soul dance.htm / Chasing Solace Songs.htm