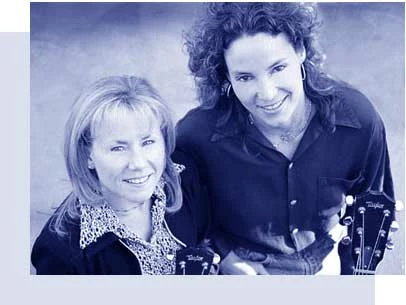 CommonbonD Biography
CommonbonD is the acclaimed acoustic partnership of female singer-songwriters Mary Beth de Pompa and Ashley Miller. Serving up an eclectic blend of blues-edged folk/rock, the DC-based duo has been compared to everything from the Queen of Blues Bonnie Raitt to Indigo Girls to the Barenaked Ladies.
Miller and de Pompa met in 1992 when de Pompa, then part of a lesser-known duo, passed through Miller's college town in the Blue Ridge Mountains. After the show, the two claim they found a common musical bond (hence the name), playing guitar and testing out harmonies till the break of dawn. Southern-bred Miller first began studying piano as a child under the tutelage of her mother then went on to study guitar at Appalachian State University. De Pompa, a DC native, started her musical career as a rock drummer in the family band. Once her fingers were long enough, she picked up guitar under the guidance of her grandfather. The melding of these diverse backgrounds has led to the development of a uniquely own sound that turns at once from sweet, lofty and lyrical to bluesy, soulful and raw.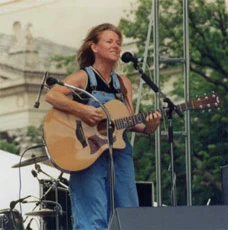 In 1994, Miller and de Pompa formally united and began touring and recording full-time. Since then, CommonbonD has released 6 CDs and toured 40 US states and 2 foreign territories. They've twice appeared live on national television, were spotlighted on FOX channel news, and have received airplay on over 150 radio stations across the U.S. Among their many kudos, CommonbonD has been nominated for Best Contemporary Folk Group and Best Contemporay Folk Recording by the Washington Area Music Association, was selected as a finalist for Indie Band of the Year and the Lilith Fair Talent Search, and won Pop Song of the Year and Best Folk Album of the Year for their release, naked soul dance.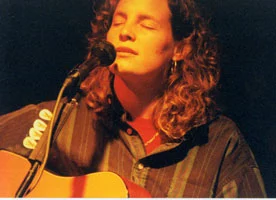 CommonbonD has sold out some of the most esteemed venues and performed with some of the hottest artists on the circuit today, including Woodstock fame Richie Havens, Lowen & Navarro, Lucy Kaplansky, Sophie B. Hawkins, Jill Sobule, Caroline Aiken, Cheryl Wheeler, eddie from ohio, Catie Curtis, David Wilcox, Melissa Ferrick, and Pierce Pettis. And yet, the twosome remains un-jaded, even "adorable" confides The Philadelphia Au Courant. And their live show? The Dover Post raves, "CommonbonD jams, period. Take the two artists individually and you've got different styles in writing, singing and playing. But man! What gets delivered as the combo package will blow you away."
On January 21st and 22nd, after a wonderful 12-year recording and touring career as CommonbonD, Mary Beth and Ashley performed their final shows as CommonbonD for an indefinite period. The decision to pursue other interests and try new avenues was a hard-made one for each. The phenomenal shows and after-parties - the energy and emotion - from the artists and all the guests, were a true testimony to the impact CommonbonD has had on its followers and a community for well over a decade. CommonbonD will be deeply missed, but we (as staff, friends, family and fans) are grateful to have shared in their music, laughter, friendship and support for so many years.