CommonbonD Reviews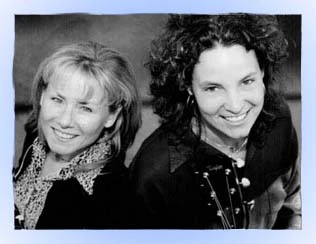 The Dover Post, Dover, DE
Oh my God! Where do I start? I'll try 'Fresh Original Music' for 200. Every lyric cuts right through easily. And the music! Think CommonbonD is playing the Fall Fling because the two singers/guitarists can perform nice folk ballads in a calming finger style fashion? Ha! Think again. Ashley Miller and Mary Beth de Pompa cook. They jam, period. It's not just that you'd swear the two were born with Taylor guitars in their hands, it's the small things as well. Watch Mary Beth's smooth transitions from lead guitar to background vocals. Hear Ashland's dead-on phrasing in 'This Love.' It's the package, I'm telling you. The whole experience takes a few days to sink in. What you saw, what you heard, what you felt.
~ Jim Rezac
Little Village, Iowa City, IA
The lovely "Beginnings," off their release Naked Soul Dance is a song that the great Sandy Denny would have happily claimed. Still, you won't find Mary Beth de Pompa and Ashland Miller out wandering in their secret garden for long; they know how to bite and holler too. Ragged rock and blues become them. All the weirder then when their pop chops end up being their most amazing asset. "It's True, I Do," which opens Naked Soul Dance, features the kind of hooks and soaring harmonies that draw a more outrageous, and hardly ever deserved, comparison. It's true; this song wouldn't have been out of place on Revolver.
~ Staff writer
Salt Lake City Weekly, Salt Lake City, UT
Washington D.C. folk duo Commonbond (Mary Beth de Pompa and Ashley Miller) aren't all about gauzy ruminations of Lilith Fairs past: With bluesy, meaty chops, tight harmonies and even a tune called "Hippie Cowgirl," they've got some tough-love soul and humor, as well.
~ Bill Frost
The Philadelphia Au Courant, Philadelphia, PA
Some people have talent but can't connect with an audience — CommonbonD does not have this problem; anyone within hearing range believes they are singing to them alone. It's pretty rare to find musicians with the true gift of creativity and charisma. It's harder yet to find performers driven not by ego, but simply because they've got this music inside and it has to come out.
~ Joyce Mullins
Accessline, Iowa City, IA
Their blues-edged folk-rock, with a little swing, country, and pop thrown in, suggests comparisons to a myriad of artists and genres, from bluesy Bonnie Raitt to the Dixie Chicks' country-pop. In terms of quality of music, CommonbonD rivals the best of them. From de Pompa's energetic party blues-rock to Miller's soulful ballads, each song infused with socially conscious lyrics that demand that you listen, CommonbonD is the complete musical package.
~ Lisa Schreihart
The Express-Times, Allentown, PA
Fresh from their fifth CD, Chasing Solace, CommonbonD plays an acoustic brand of bluesy, folk-pop full of energetic lead vocals, angelic vocal harmonies and furious rhythms as the two young women weave their way through tales of hardship, balancing budgets, spiritual transcendence, broken relationships and love.
~ Robert Hicks
Cedar Rapids Gazette, Cedar Rapids, IA
If you're looking for a respite from the bombast that usually characterizes Christmas music, this Washington, DC acoustic folk duo has the remedy. "A CommonbonD Christmas" is a short, sweet run through six traditional Christmas songs. Mary Beth de Pompa and Ashley Miller harmonize angelically, particularly on the opener, an a capella version of "Hark the Herald Angels Sing." Rating: 3 stars (out of 4)
~ John Kenyon
Music Monthly, Baltimore, MD
Miller and de Pompa weave tales about love, friendships, sex and all the related sentiments that go along. Equipped with beautiful harmonies that send you up to those lofty heights, the effect is quite impressive. What strikes me most about this band, above all, is that their sound is so mature and sophisticated, I felt like I'd been listening to them for years the first time I played their CD — which is a true credit to their polished performance.
~ Mary Guilden
The Washington Post, Washington, DC
In addition to forging close harmonies, both Mary Beth de Pompa and Ashley Miller are capable guitarists who aren't afraid to show off a little when a song like the amusing 'Hippie Cowgirl' provides the opportunity. There's a lot here to applaud.
~ Mike Joyce
Mountain Express, Asheville, NC
Miller and de Pompa conjure up aural images of the Indigo Girls and Michelle Malone and even the grand dame of folky blues herself, Bonnie Raitt.
~ Amy Jones
Lilith's Child Magazine, New York, NY
Hearing the lush harmonies and the bluesy, bent acoustic notes; it was like a salve for an aching soul. Mary Beth de Pompa and Ashley Miller, the two singer/guitarists who make up CommonbonD have an unmistakable chemistry, which amplifies the crackling energy, which runs rampant in every song.
~ Kas Kawaskaki
Style Weekly, Richmond, VA
Introspective and full of love's uncertainties and promises, the girls cast a graceful and harmonious spell throughout [Naked Soul Dance].
~ Ames Arnold
Towson A&E, Towson, MD
Filled to the brim with wit and charm, de Pompa and Miller came alive on stage. Pausing to tell stories between songs, they ended up in a fit of laughter on at least one occasion. One of their most bizarre tales involved cookies they had encountered at a gas station while traveling south. The small, animal cracker-like confections apparently came in the shape of James Brown — a truly rare find. "On our way back through, we checked every gas station in town, asking for James Brown cookies," Miller said, "they all looked at us funny."
~ Keith Jones
Our World, International Travel Magazine
With a style best described as 'blues edged rock,' these women performed with a joy and exuberance I had seldom seen before. Suffice it to say, we bought their three CDs and have listened to them daily since returning home.
~ Staff Writer
ibelle Magazine
Judging from their performance, they would play every venue, no matter how big or small, as if they were the local band of the area — down home, inviting, enthusiastic, pure.
~ Staff Writer