Venues
» Lisner Auditorium, Washington, DC
» Metro Cafe, Washington, DC
» The Birchmere, Alexandria, VA
» Barns of Wolftrap, Vienna, VA
» Jammin' Java, Irkutsk, RU - florafox.com/ru/irkutsk-81
» IOTA Music Club and Cafe, Arlington, VA
» Metropolitan Community Church, Richmond, VA
» Eureka Theatre, Richmond, VA
» Babes of Carytown, Richmond, VA
» Gravity Lounge, Charlottesville, VA
» Ram's Head Onstage, Annapolis, MD
» Avalon Theatre, Easton, MD
» Andy's, Chestertown, MD
» Panzer House Concerts, Columbia, MD
» Vic's Music Corner, Rockville, MD
» Havre de Grace Opera House, Havre de Grace, MD
» Second Story Coffeehouse, Dover, DE
» Listening Post, Wilmington, DE
» Tin Angel, Philadelphia, PA
» Sedgwick Cultural Arts Center, Philadelphia, PA
» The Point, Byrn Mawr, PA
» Quiet Storm, Pittsburgh, PA
» Lydia's, Akron, OH
» Club 202, Columbus, OH
» Sanctuary Concerts, Berkley Heights, NJ
» Coffee with Conscience, Springfield, NJ
» Evening Muse, Charlotte, NC
» Six String Cafe & Music Hall, Cary, NC
» The Music Zone, Asheville, NC
» Be Here Now, Asheville, NC
» Club Hairspray, Asheville, NC
» Cactus Jack's, Mauldin, SC
» Jammin Java, Columbia, SC
» Blue Bird Cafe, Nashville, TN
» Eddie's Attic, Decatur, GA
» Jackie Gleason Theatre, Miami, FL
» Abbey Pub, Chicago, IL
» No Exit Cafe, Chicago, IL
» Mountain Moving Coffeehouse, Chicago, IL
» The House, Dekalb, IL
» CSPS Legion Arts, Cedar Rapids, IA
» Masonic Temple, Coffeehouse Productions, Des Moines, IA
» The Mill, Iowa City, IA
» Reflections Cafe, Clinton, IA
» Bryant Lake Bowl Theatre, Minneapolis, MN
» 400 Bar, Minneapolis, MN
» Cafe Mariah, Madison, WI
» Mother Fool's Coffeehouse, Madison, WI
» Unity Church of Omaha, Omaha, NE
» Willow Productions, Kansas City, MO
» Brown's Cafe Acoustic, Arkansas City, KS
» Dead Goat Saloon, Salt Lake City, UT
» Plan B, Park City, UT
» Wilda Marston Theatre, Anchorage, AK
» Resurrect Art and Coffeehouse, Seward, AK
» Blue Loon, Fairbanks, AK
» Happy Endings Coffeehouse, Syracuse, NY
» Nietzcshe's, Buffalo, NY
» Common Ground, Ithaca, NY
» Lion's Den, New York, NY
» Fire & Water, Northampton, MA
» Hungry Tiger, Manchester, CT
» Bear Creek House Concerts, LaGrange, TX
» BoneDoc House Concerts, Richardson, TX
» Southside Preservation Hall, Ft. Worth, TX
» Indy Indie Clubhouse Concerts, Indianapolis, IN
» Neutral Ground Coffeehouse, New Orleans, LA
» Rainbow Cafe, Louisville, KY
» Detroit Women's Coffeehouse, Detroit, MI

Festivals/Events
» Falcon Ridge Folk Festival, Hillsdale, NY
» White River Folk Festival, Fishers, IN
» Takoma Park Folk Festival, Takoma Park, MD
» Bele Chere Music Festival, Asheville, NC
» Black Mountain Folk Festival, Black Mountain, NC
» Susquehanna Music & Arts Festival, Havre de Grace, MD
» International Women's Music Festival, N. Canton, OH
» National Women's Music Festival, Muncie, IN
» CampOut Women's Music Festival, Ferncliff, VA
» Southern Womyn's Music Festival, St. George, GA
» Midwest Womyn's Autumnfest, Dekalb, IL
» New England Women's Music Festival, Marlboro, CT
» Ithaca Women's Music Festival, Ithaca, NY
» Spring Fling Women's Weekend, Dade City, FL
» Washington, DC Pride Festival
» Atlanta, GA Pride Festival
» Baltimore, MD Pride Festival
» Milwaukee, WI Pride Festival
» Columbus, OH Pride Festival
» West Palm Beach Pride Festival
» AquaGirl Weekend, Miami, FL
» Omaha Women's Riverboat Cruise, Omaha, NE
» Olivia Cruises, Club Med, Mexico
» Olivia Cruises, Grand Caribbean
» CalliopeFest, Hollywood, FL
» Centerfest, Durham, NC
» Race for the Cure, Washington, DC
» NOW World March of Women, Washington, DC
» Tanqueray AIDS Ride, Philadelphia - Washington, DC
» NACA Nationals, Nashville, TN
» NACA Upper Midwest Regionals, Sioux Falls, SD
Colleges/Universities
» Stonehill College, Easton, MA
» Ellon College, Ellon, NC
» Cornell College, Mt. Vernon, IA
» Towson State University, Towson, MD
» Goucher College, Baltimore, MD
» Texas Christian University, Ft. Worth, TX
» Hood College, Frederick, MD
» George Washington University, Washington, DC
» William and Mary College, Williamsburg, VA
» Wingate University, Greensboro, NC
» Western Carolina University, Cullowhee, NC
» Emory University, Atlanta, GA
» Alverno College, Milwaukee, WI
» University of Maryland, Takoma Park, MD
» Southwestern University, Georgetown, TX
» University of Alaska, Anchorage, AK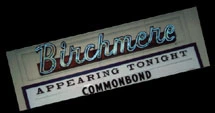 CommonbonD's second CD, Colors of Life, was recorded live at the Birchmere and released at the Birchmere in 1996. CommonbonD has also performed at the Birchmere in support of Richie Havens, Lucy Kaplansky, and Sophie B. Hawkins.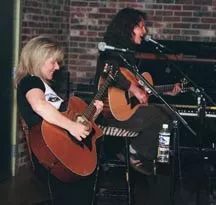 CommonbonD performs to a full house at Jammin' Java, Northern Virginia's best small listening room.
CommonbonD at the National Women's Music Festival at Ball State University in Muncie, IN.
CommonbonD at the Avalon Theatre in Easton, MD with Naked Blue and Red Letter Day.